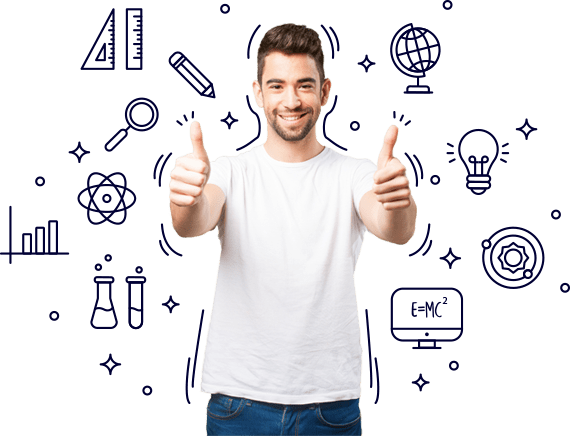 Welcome to
Delhi Institute of Advanced Studies
Delhi Institute of Advanced Studies (DIAS) is a self financing institution affiliated with Guru Gobind Singh Indraprastha University, Delhi. We believe in providing quality education, with focus on professional excellence in the offered streams of Management & Commerce.
Placements
Excellent Placements 2018-19

Ankita Acharjee
Comapny: Jaro Education
Package: 6.78 Lacs

Poshak Sethi
Comapny: Square Yards
Package: 4.6 Lacs

Swajasha Moitra
Comapny: Learning Routes
Package: 4.32 Lacs

Rahul Rajesh
Comapny: Square Yards
Package: 4.6 Lacs

Vipin Rai
Comapny: Secure Now
Package: 4.6 Lacs

Kartika
Comapny: Jaro Education
Package: 7.5 Lacs

Vaibhav Kunwar
Comapny: Secure Now
Package: 4.6 Lacs

Priti Bist
Comapny: Amer Prise Financial
Package: 4.5 Lacs

Sachin
Comapny: Squareyards
Package: 4.6 Lacs

Rishabh Pritwani
Comapny: Learning Routes
Package: 4.32 Lacs

Shriya Sharma
Comapny: Ameriprise Financial
Package: 4.5 Lacs

Tarun Beri
Comapny: Squreyards
Package: 4.6 Lacs

Shubham Kamra
Comapny: Squreyards
Package: 4.6 Lacs

Priya
Comapny: Squreyards
Package: 4.6 Lacs

Reetu
Comapny: Secure Now
Package: 4.6 Lacs

Shrey
Comapny: Secure Now
Package: 4.6 Lacs

Prachi Aggarwal
Comapny: ATL Foundation
Package: 2.4 Lacs

Muskan Kalra
Comapny: Secure Now
Package: 4.6 Lacs

Manshi Sharma
Comapny: ATL Foundation
Package: 2.4 Lacs

Asmita Dwivedi
Comapny: Secure Now
Package: 4.6 Lacs

Apurva anil
Comapny: Ameriprise Financial
Package: 4.5 Lacs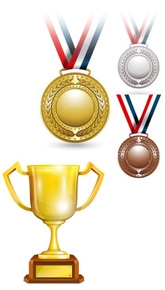 Only institute with 26 gold medals.
At DIAS, we believe that " nothing succeeds like success". The hard work put in by the students and the support rendered to them by the faculty is best reflected in the Institute's results. Our students have done well in all the University examinations held so far. It is gratifying to note that our students…
To unite its members in the closed bonds of good fellowship and promote better business and social interaction among them.
To provide a common platform to the Institute, current students and former students for mutual benefit.
To collect and disseminate information on current happenings, industry trends & practices, opportunities etc.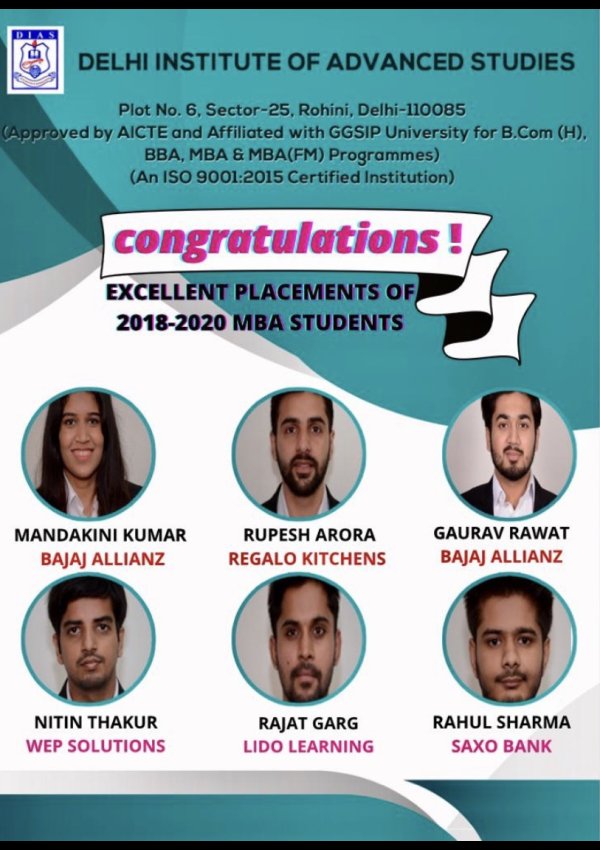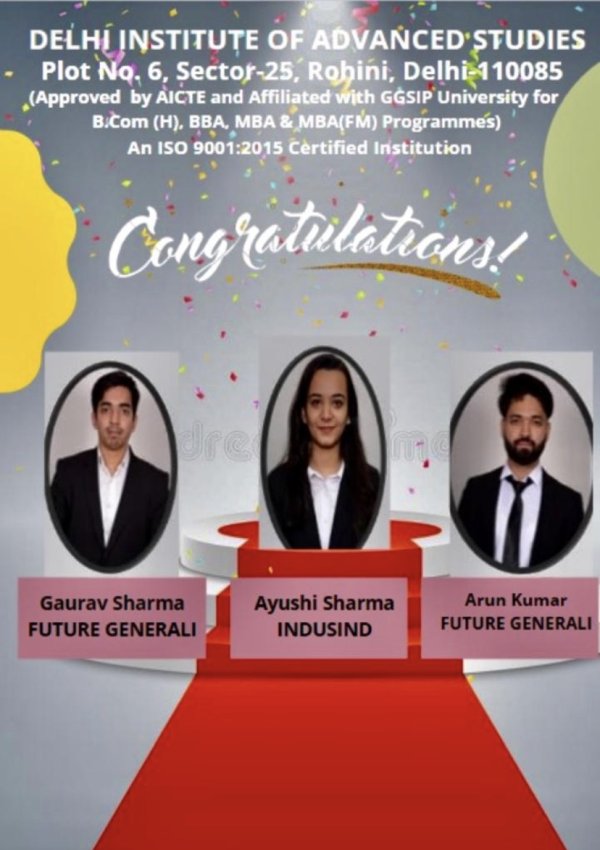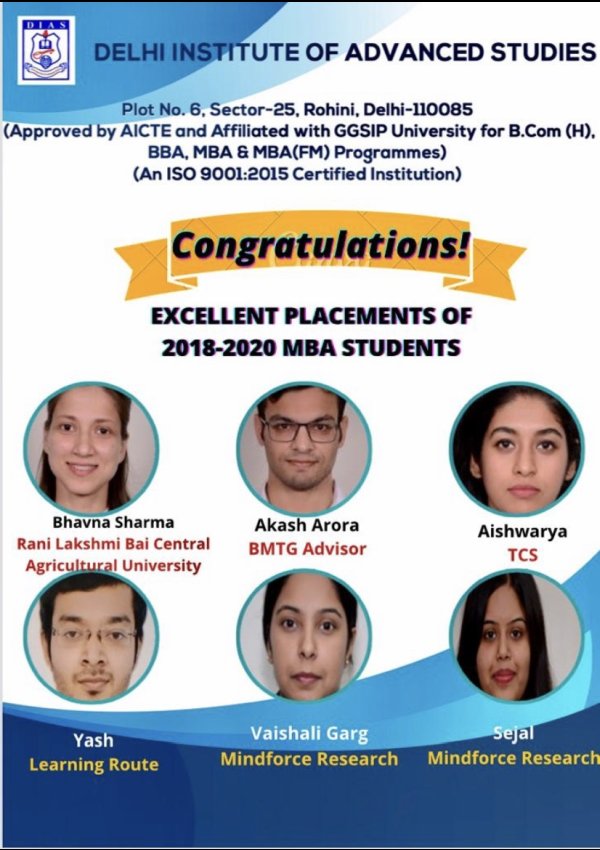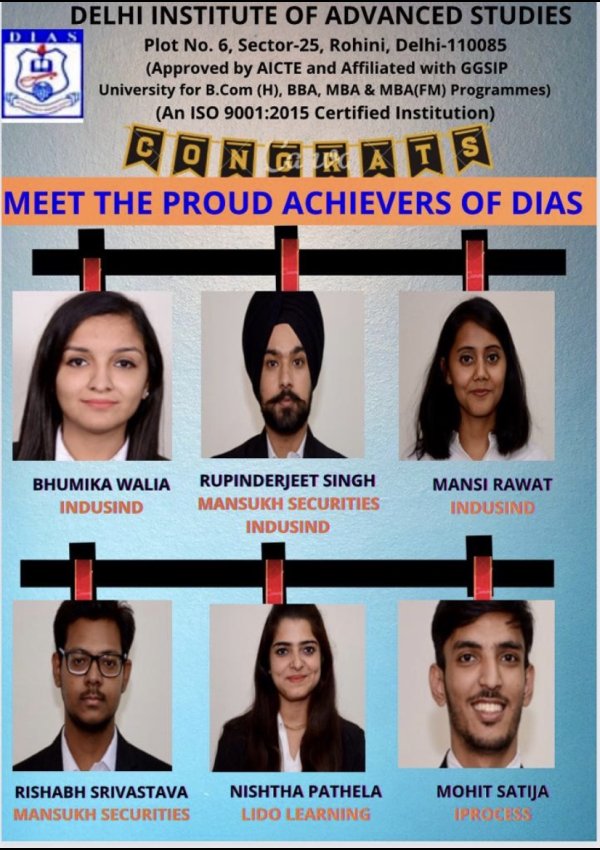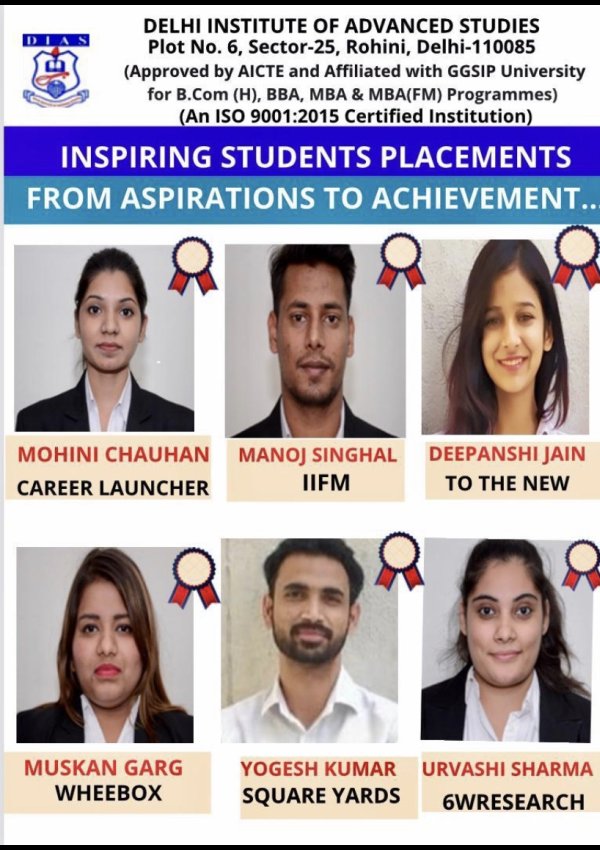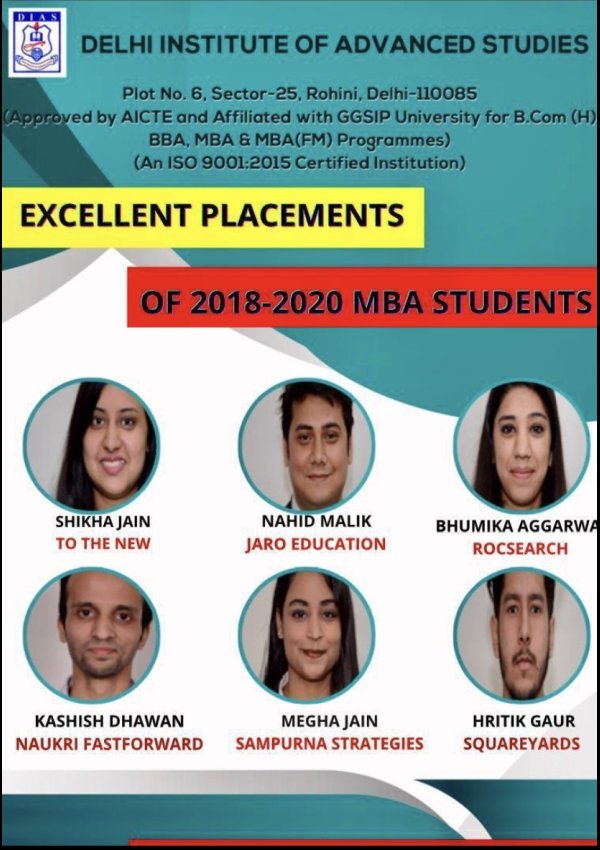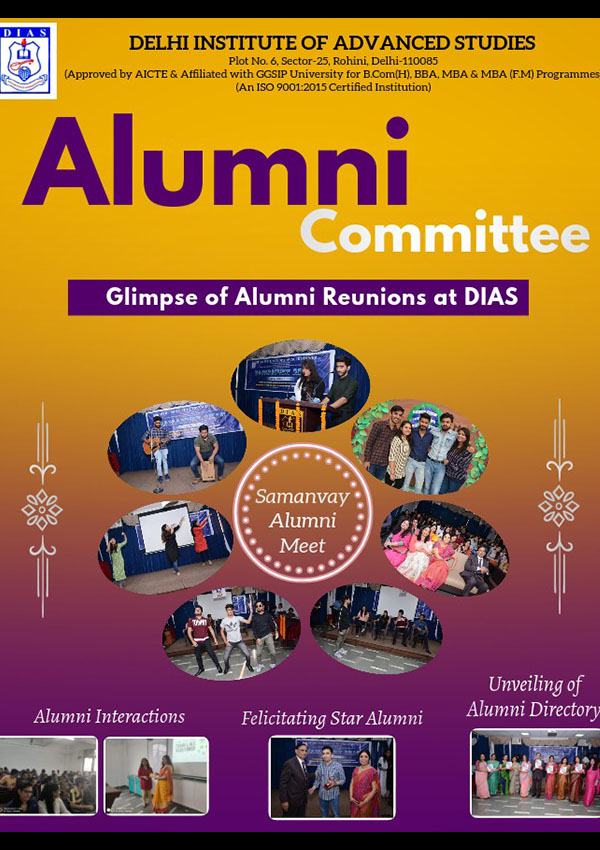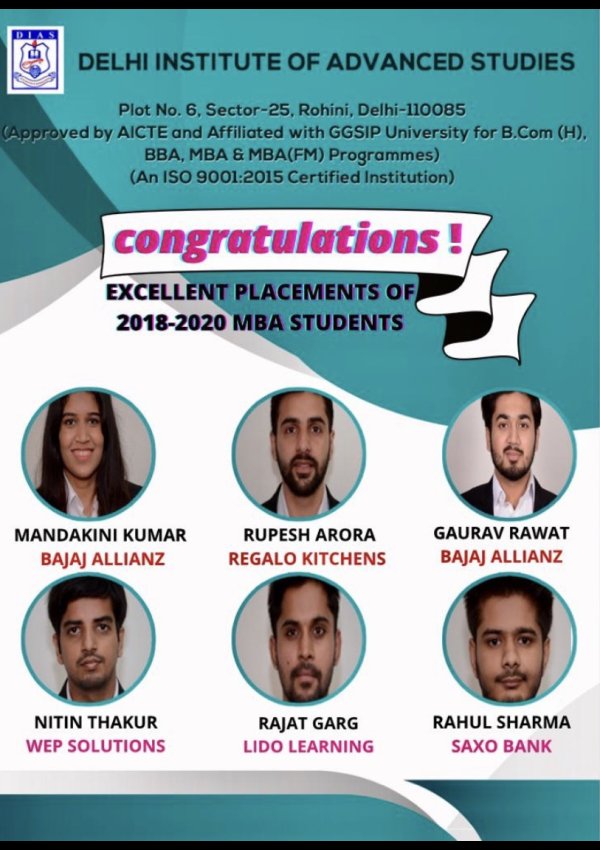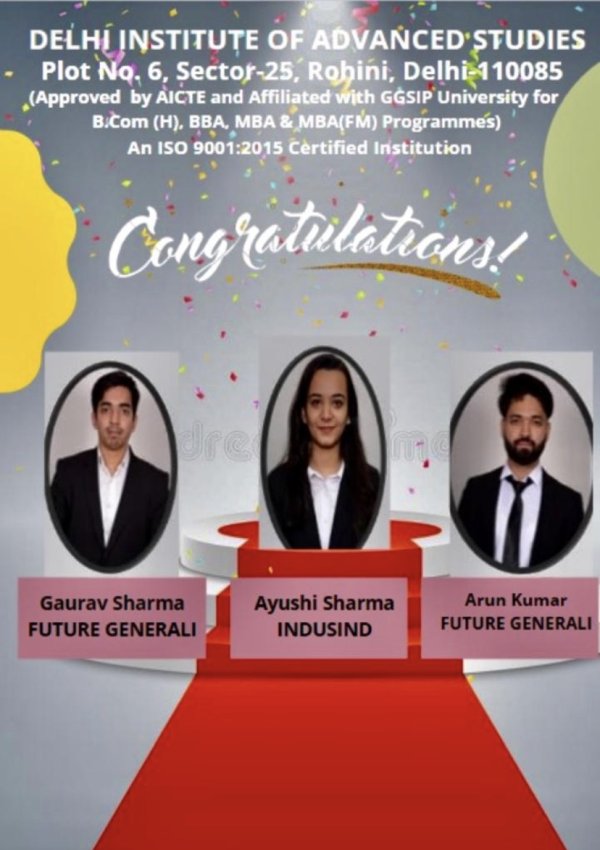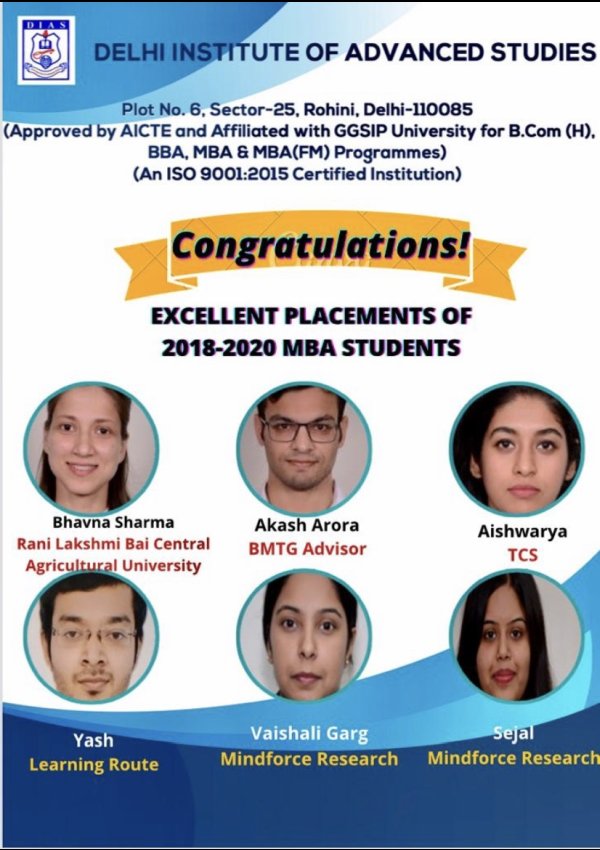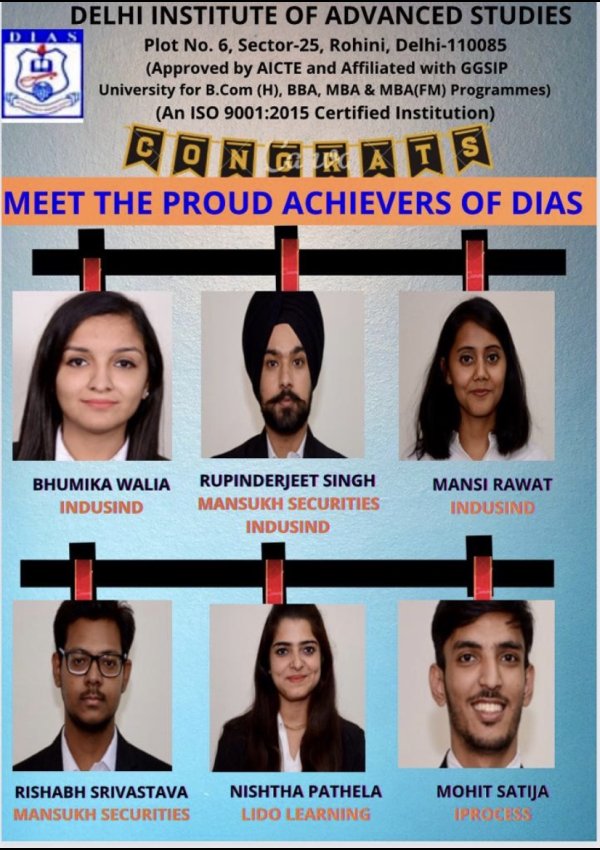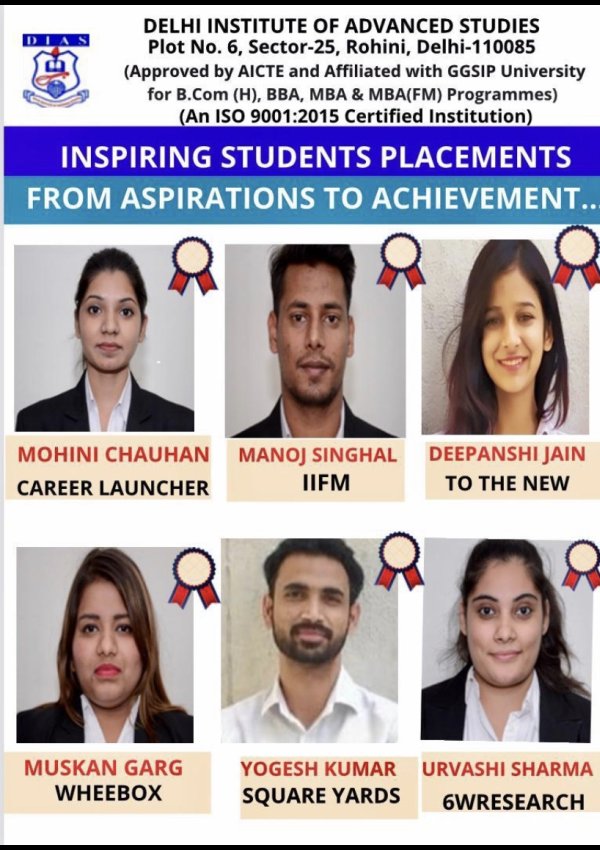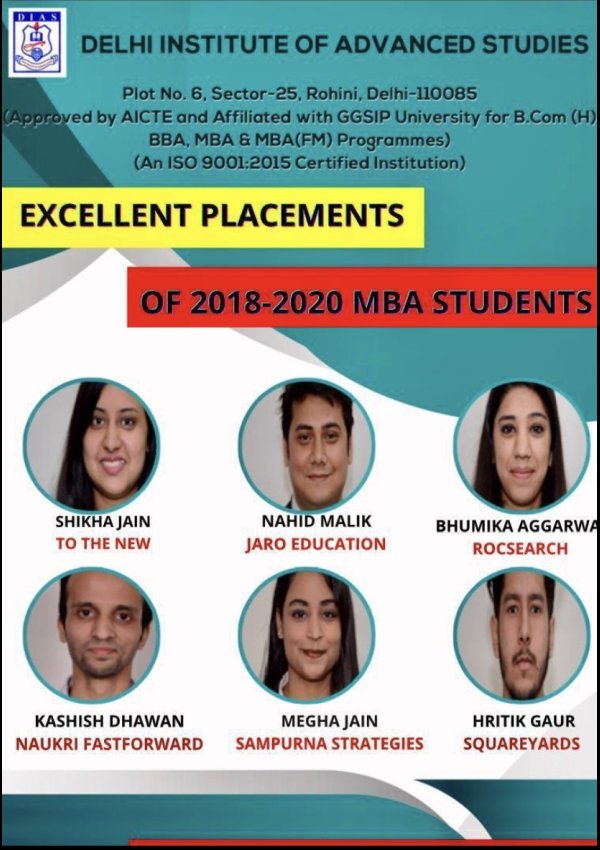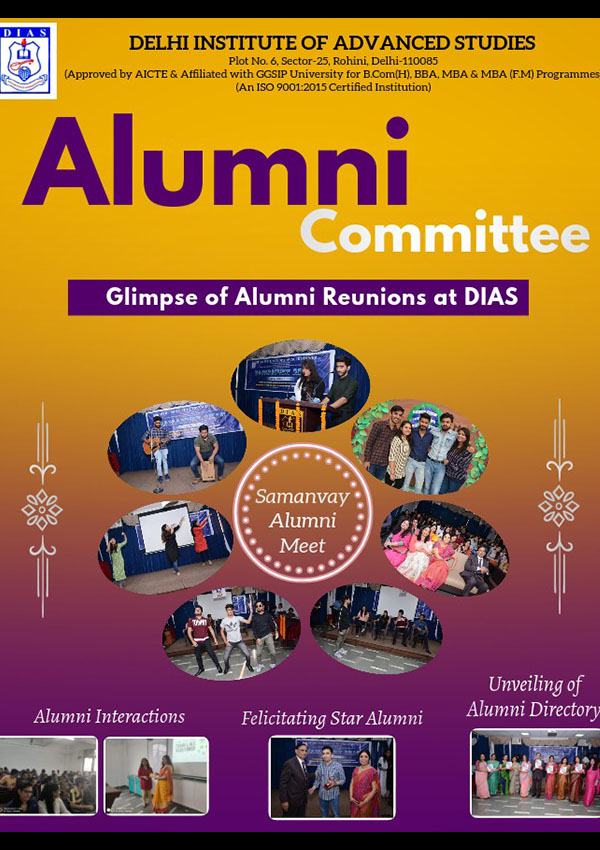 It was a great experience studying at DIAS. I learnt so many things and got many opportunities to participate in curricular activities. The PDP sessions helped me enhance my personality which helped me a lot in my interviews. DIAS offers a complete professional environment with teachers always ready to help and support. The DIAs experience will always be remembered and cherished by me throughout my life.

Experience at DIAS was a roller coaster ride. The college is professional and disciplined which immensely helped in enhancing our personal as well as professional skills. The faculty understands the importance of developing variety of skills to ensure that students are successful after earning their MBA. It educated us how to be a good leader, a manager and an entrepreneur.

An investment in knowledge pays you best interest. Journey in DIAS is unforgettable. It was a great experience and provided me many opportunities for personal growth. I am grateful to all my teachers who helped me in each step to become successful and build my career in right direction.

Life at DIAS is one of the best time in my life. DIAS helped me a lot in improving my various skills by providing continuous support and feedback. Life at DIAS is unforgettable, full of fun along with learning. Today, just because of DIAS, I found myself as a successful person in the corporate world.

The experience at DIAs was incredible. I have enjoyed my 2 years here to the fullest. I made some very good friends. Teachers here were helpful and provided all support needed to achieve goals. It was a wonderful Journey.

My experience with DIAS was amazing, I learned lot many things, got more confident about myself and my capabilities. Here my teachers taught me how to find my hidden talent & how to tackle various situations in life.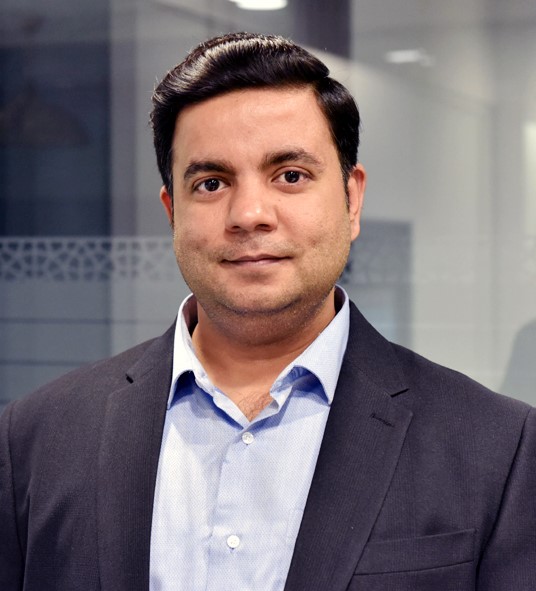 DIAS is not just an institute to me but a place where I gained early skills & knowledge best needed for survival in this competitive world. I thank the institute and the faculty for all the efforts, along with the perseverance and right ways of teaching which have much contribution to make me what I am today. My batch mates are also doing well in their professions, which reflect the quality of the students DIAS has produced.

DIAS is a place where I spent the best time of my student life. It is a place where I gained enough skills and knowledge set which is needed to face the corporate world. I learned so many things and got exposure to the corporate world. SIIF and STF committees helped me a lot in enhancing my personality which helped me a lot during interview time. DIAS guides their students on to become a good leader, entrepreneur, and manager.

DIAS is a top college of IPU. Students get many opportunities to learn things and they help us to learn corporate etiquette. The faculty is highly qualified and experienced. Even during the times of Covid19, they helped us in every manner they could. The placement cell actively works for students to get placed even during the times of Covid19. Top recruiting companies like S&P Global, Roc Search, Protiviti, and To The New, etc. visited our college for the placements. Almost 100% of the students got an internship from the college in 2019.

DIAS is a place where students are motivated not to just improve academics but to improve and add co-curricular activities as well. Even after having multiple societies, DIAS keeps on adding many others keeping in view the changing cultural environment and initiatives of students and thus creating a mutual relationship between students and institute. All the festivals are celebrated here with great enthusiasm and thus providing values to students.

DIAS has a well-equipped facility and good infrastructure. The green campus which is very well maintained and one of the best faculties are available to teach and guide students. Faculties are really very Supportive. Some of them have helped grow professionally as well as personally. Really happy to have them.

The friendly environment, the systematic approach towards imparting education at DIAS made me a competent individual. The wide range of activities- both curricular and co-curricular- along with the support from DIAS has been really very helpful for my future. In DIAS, we are trained for our placements and on account of that, I was placed in one of the reputed companies. Today, if I am at a good position, it's because of what I have learned at DIAS. Lastly, I am proud to be a DIASIAN.

In the field of knowledge and expertise, DIAS has the best teachers from various places in the country. There are some teachers who had corporate experience / entrepreneurial skills to enhance practical knowledge among the students. In my opinion, this Institute is best in knowledge and education. DIAS organizes various events throughout the year and every event is held under the guidance of our teachers and is managed by the students to enhance their management skills.

It's a privilege to get connected to DIAS, a place where I gained knowledge to a great extent and learned a lot of new things, best-needed exposure of the outside world. The institute not only taught me how to be confident but also worked on my self-discipline, time management, and problem-solving aspects as some of the essential traits to start this beautiful journey of my career. I cleared all my interviews effortlessly and secured multiple placements in prestigious companies, thanks to DIAS.

I feel proud to be MBA alumni of DIAS. I was introvert and shy when I had joined DIAS but within few months of joining the course, I started experiencing the changes in my personality. DIAS gave me the platform to express myself. In every class, we had presentations which boosted my confidence. The faculty of DIAS is amazing and always encourages its students. I was awarded as the youngest Philanthropist of the year in an Alumni meet of DIAS. The infrastructure of DIAS is so clean and hygienic.